Offshore Welding Equipment Requirements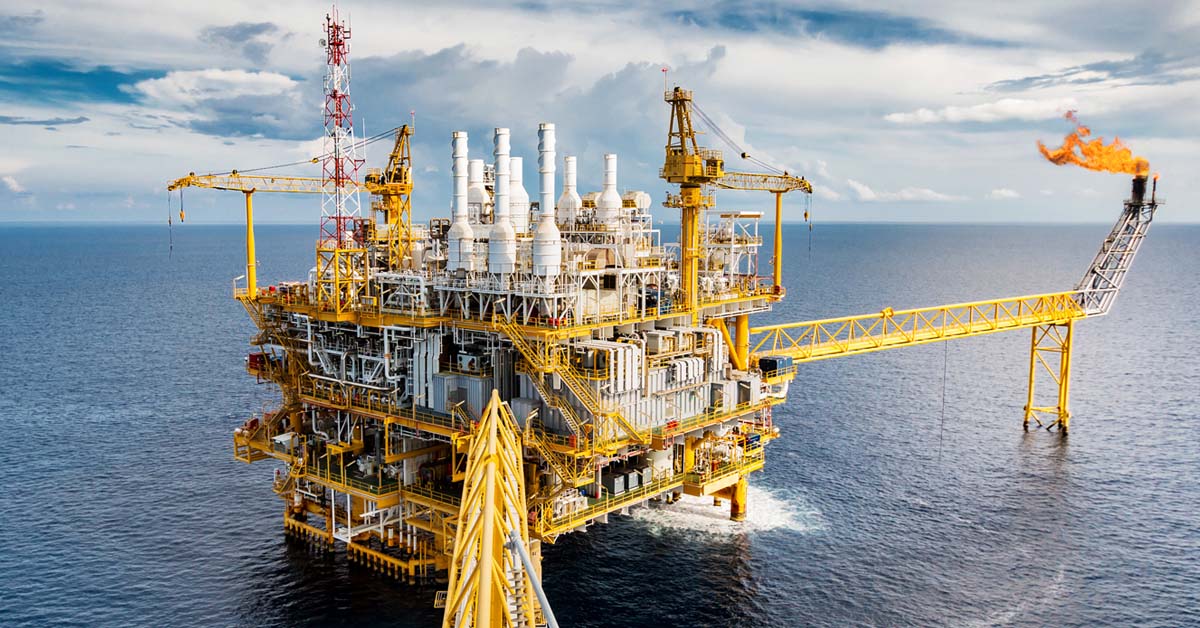 Offshore welding equipment requirements in the oil and gas industry are different from those of a small welding shop or a large fabrication line. When working on an offshore oil rig, you want safety, integrity, durability, reliability, and versatility as prime pillars of your welding equipment. 
Working with pressurized and flammable materials in an industry where every maintenance and repair interruption creates a profit bottleneck and poses a risk of devastating explosions, requires specialized equipment for all welding tasks.
Pipes and other critical infrastructure on the offshore rigs must be repaired quickly, efficiently, and most importantly, safely. And you cannot achieve this goal with subpar equipment. So, let's discuss the offshore welding equipment requirements and see how you can benefit from proper equipment selection. 
Offshore Welding Conditions
It's not an overstatement to say that environmental conditions on offshore rigs are brutal. Extreme weather, rough seas, corrosive sea water, and powerful winds require equipment that can reliably perform in the most adverse situations. In addition, welders working on offshore platforms have to repair and install platform elements in noisy, damp, and cramped conditions with extreme weather, making all metalworking tasks more challenging than in most other industries. 
Hurricanes and other extreme sea weather events are difficult, if not impossible, to predict. For example, Hurricane "Gustave" swept through the Gulf of Mexico in 2008, damaging more than 130 offshore platforms. Later that year, Hurricane "Ike" produced similar damage. Since it's welders who repair the damage and keep rigs running smoothly, their personal protective equipment (PPE) and welding tools must be engineered to function even in challenging conditions.
Offshore Welding Equipment
The bulk of offshore welding equipment comes down to welding power sources, diesel generators, induction heating devices, fume extractors, PPE, welding consumables, filler materials, welding automation equipment, and shielding gas for arc welding processes. While you would generally see a similar list of welding equipment for most industries where welding is employed, offshore equipment must meet stringent requirements to perform reliably in harsh conditions.
Personal Protective Equipment
Welders on offshore rigs are at potential risk for electrical burns, eye damage from welding arc, health issues from toxic fumes and gases, exposure to dangerous levels of UV and IR radiation, physical injuries, frostbites, and develop hearing damage due to a noisy work environment. 
Offshore welding typically requires working with high-amperage welding machines in less-than-ideal conditions using a shielded metal arc welding process (SMAW). High amperage, coupled with an arc welding process that produces a lot of sparks and welding fumes, requires adequate PPE to combat arc eye injury, like a heavy-duty welding helmet with an appropriate DIN shading level, and fire-resistant welding apparel that can withstand molten slag and metal droplets. In addition, welding respirators may be necessary, along with a welding fume extraction system.
Welding Power Sources
MIG, Flux-cored, TIG, stick, and submerged arc welding power sources for offshore welding can have up to 1500 amps of welding power, be single-process or multi-process units, and work standalone or as a part of multi-operator packs. 
Welding on oil rigs means the power source might be exposed to corrosive salt water, harsh moisture-ridden winds, and possibly physical shocks, like bumps and tool hits. These machines must be built to withstand such an environment with rugged bodies made from heavy-gauge stainless steel. 
Diesel generators or diesel-powered welders must have extreme-duty protective enclosures to minimize saltwater intrusion. In addition, they should be fuel efficient and produce a low noise level to reduce workers' distraction and hearing damage. Diesel-powered welders should have excellent cold-starting abilities because offshore platform temperatures can get extremely low. Another significant advantage of diesel-powered welders is the provided auxiliary power for tools, and this benefit is exceptionally useful during post-hurricane repairs.
Stick welding equipment should be equipped with a voltage reduction device (VRD) to prevent electrical shocks to welders. VRD reduces open circuit voltage (OCV) to safe levels before the welding arc is initiated, which minimizes the chances of welder electrocution in cramped, wet, and damp areas. 
Offshore rigs require welding everything from rails to heavy construction, pipes, and pressure vessels for barium sulfate and other compounds. The welds on offshore platforms have extremely stringent requirements, which means that the welding equipment must have impeccable arc quality and necessary features to maximize the weld integrity in every application.
Automated Welding Equipment
Automated welding solutions can significantly improve productivity, efficiency, and safety in the oil and gas industry. Weld automation bridges the skills gap and helps you deal with the skilled labor shortage while simultaneously improving your bottom line and weld quality. 
Employing automation equipment like welding positioners, manipulators, turning rolls, fit up bed tank rollers, welding cobots, automated submerged arc systems, and other welding automation equipment can drastically cut the production time for pressure vessels, pipes, and other critical elements of offshore oil and gas platforms. 
Some of the most critical automation solutions for offshore oil and gas extraction are automated pipe cladding systems. Offshore environments and subsea reservoirs are highly corrosive, and many of the extraction process failures are attributed to pipeline corrosion. The pipelines typically contain aggressive agents like organic acids, carbon dioxide, hydrogen sulfide, chlorides, sand, and other chemicals that cause steel pipe corrosion. However, the pipelines can last significantly longer when using automated cladding equipment to bond the corrosion-resistant alloys on the inside of the pipes used in an aggressive offshore environment.
Rent Or Lease From Red-D-Arc
The offshore oil and gas industry has an extensive range of welding needs. Unfortunately, it's almost impossible to accurately predict the scope of welding equipment an offshore rig will need in any given year, especially when you account for hurricanes and other destructive natural events. 
Thankfully, welding is so versatile that you can join almost all elements on the oil and gas platforms as long as you have the right equipment. But, it doesn't always make sense to buy fleets of advanced welding power sources and automation equipment. Instead, many welding businesses rely on rental equipment because it's difficult to predict the hurricane season and the yearly oil and gas industry requirements.
By renting or leasing your welding equipment, you can scale in and out of the welding job and still keep your contract for the maintenance and repair of rigs and platforms. Red-D-Arc offers welder rentals and welding equipment fleet management services for many industries, and provides extreme-duty performance and reliability, even in the harshest environments.
Red-D-Arc experts have an in-depth understanding of materials, products, and specific job-type needs, and we stand ready to help you prepare for your next offshore season. Contact us today, and our team will work with you closely to develop and implement the solutions you need.
Red-D-Arc Welderentals™ an Airgas company rents and leases welders, welding positioners, welding-related equipment, and electric power generators – anywhere in the world. Our rental welders, positioners and specialty products have been engineered and built to provide Extreme-Duty™ performance and reliability in even the harshest environments, and are available through over 70 Red-D-Arc Service Centers, strategically located throughout the United States, Canada, the United Kingdom, France, and the Netherlands, as well as through strategic alliances in the Middle East, Spain, Italy, Croatia, and the Caribbean. From our rental fleet of over 60,000 welders, 3,700 weld positioners, and 3,700 electric-power generators, we can supply you with the equipment you need – where you need it – when you need it.