Plant Maintenance in the Coatings Industry
Share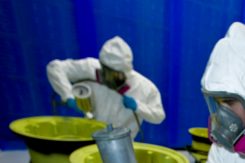 Dry Ice Blasting Solves Equipment Maintenance Challenges in the Coatings Industry
One of our customers – a powder pigment coating facility in Houston maintains one of the most extensive portfolios of powder technologies in the industry. When they encountered difficulties with their existing cleaning methods, they turned to Red-D-Arc for equipment cleaning alternatives.

The Challenge
Every time the company switches its product line, all of the powder coating mixing equipment, mixers, grinders, etc. must be thoroughly cleaned to prevent cross-contamination of colors and materials. Historically, this was done by a combination of chemical, mechanical, and manual cleaning, which required each unit to be shut down for an extended period. These methods were expensive, slow, and potentially hazardous to worker safety.
---
Customer Background
The firm delivers top-of-the-line of coating systems serving over 100,000 customers in 130 countries
With more than 150 years of experience in the coatings industry, this public listed company is a global manufacturer and supplier of coatings systems to a wide range of markets that include industrial, light and commercial vehicles, aviation, and many refinish applications.
The firm delivers top-of-the-line of coating systems serving over 100,000 customers in 130 countries. Finest coatings are designed to prevent corrosion, increase productivity, and enable materials to last longer. With billions of dollars in revenue each year, the powder manufacturing center in Houston, Texas, is no stranger to the difficulties of manufacturing such coatings.
---
"unwavering commitment to ensure employee safety and top level customer service"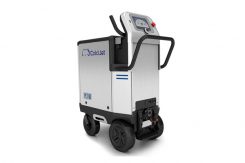 The Decision Process
In an unwavering commitment to ensure employee safety and top level customer service, through better procedures and systems, the company reached out to Red-D-Arc to explore other equipment cleaning solutions. Since purchasing a cleaning system required large capital expenditures, they were looking for a cost-effective solution to solve their problem.
The Solution: Aero 40FP Dry Ice Blasting Machines Red-D-Arc was sure we had a process that could suit the coating company's needs. Our blast cleaning specialists provided the customer with a demonstration of our dry ice blasting equipment at their facility. After seeing the effectiveness of the dry ice cleaning method the coatings company began a renting dry ice blasters for a trial period of several months. This allowed them to assess the costs and benefits of c02 blasting and they ultimately decided on a long term lease of two ColdJet Aero 40 FP Ice blast systems.
---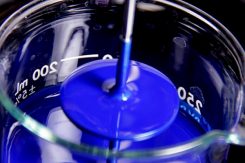 The Result
In the end, the mobile Aero 40FP dry ice blasting machines, became a permanent part of our clients regular facility maintenance routine. With the Aero 40FP's full range of blast pressure, consistent pellet flow, and lower power consumption, our customer ended up reducing time spent on maintenance. This fast and safe method of dry ice cleaning enabled roughly two hours of saving during an extruder clean. An additional two to four hours were saved during the cleaning of their powder grinders. Another chunk of time savings of four to six hours was achieved on the mixers in the plant thanks to the dry ice blasting solution that Red-D-Arc and the customer developed. These cost savings multiplied across 25 pieces of equipment and cleaning processes that take place on a weekly or bi-weekly basis.
---
Summary : The Key Benefits of Renting Dry Ice Blasting Equipment For Plant Maintenance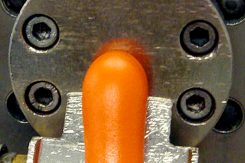 Cost Savings: Old inefficient cleaning processes are often left in place and forgotten about. Don't miss out on the cost benefits of updating to modern cleaning technology like dry ice blasting.
Flexible Financing Options: Leasing cleaning equipment such as the Aero 40FP dry ice blasting machine from Red-D-Arc is a truly effective solution for companies that are continually needing cleaning equipment and parts for production needs.
Diverse Applications: Other examples of this include weld slag removal in automated cells, descaling metals prior to welding, cleaning metals for the food industry, and many more.
Plant Maintenance Safety: Employee safety is a serious concern for every company. If you feel your employees are at risk from a from the hazards of current cleaning methods, consider c02 blasting as an safer alternative.
---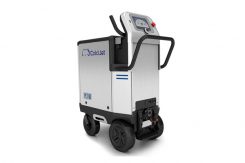 A next generation dry ice blaster packed with advanced features and functionality yet remarkably simple to use. Packed with a host of new features including an intuitive HMI display allowing the user to easy adjust and control blast parameters and store cleaning settings for a variety of industrial cleaning applications. More  >
---