Construction Firm Beats Competition With Fast Induction Heating
Share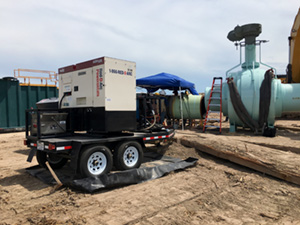 19 Hours Faster Than the Competition
Texas – One of our customers was trying to heat 42" diameter pipe using pear burners so that welders could weld out the joints. Our team saw an opportunity to create a solution that would help our customer get the job done much more quickly. To make this in-the-field heating job go faster, we put together a package including a Miller ProHeat 35 induction heating system, a 60kVA generator and a DP25 power distribution panel.
Red-D-Arc provided a reliable RDA Induction heating solution to a pipeline construction and maintenance company in Houston who needed to maintain consistent temperatures for their welders to weld out joints from pipes. Our induction heating specialist supplied our customer with a portable induction heating package consisting of a 60 KVA generator, a Miller Pro-Heat 35 induction heating system, and a DP25 power distribution panel. As a cost-effective alternative to their existing propane burners, induction heaters allowed them a secure heating, consistent temperature control, increased weld time, and improved safety.
With this setup we were able to get the pipe up to 250 degrees in about 5 minutes. Our customer was able to beat the competition's target time by over 19 hours and has been asked to quote on other pipeline work for their client. Needless to say they were pleased with the solution and the opportunity for extra work it created.

This portable induction turnkey package is a great way to heat pipes in remote locations. There is less risk to the welders from the hot pipe and the process is much, much faster.
"We were able to get the pipe up to 250 degrees in about 5 minutes"
Custom turnkey packages like the one described here are Red-D-Arc's specialty. Our team of experts has created turnkey solutions to solve challenges in diverse industries including, mining, oilfield, offshore, nuclear and manufacturing. We enjoy helping our clients find new ways to grow their businesses, by combining the latest technology, depth of experience and flexible leasing options that fit their needs.
---
Customer Background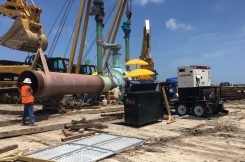 As a provider of pipeline construction and maintenance services for more than 60 years, our customer believes in using the safest industry practices, improved worker safety, and delivering higher quality work.Over the years, the company has completed significant projects, including pipeline construction, rock trenching, hydro-testing, re-vegetation, anomaly digs, river and road crossings, pipeline rerouting, and more.
The Challenge
In this particular instance, our customer's needed to reduce cycle time in the welding/pre-heating process.  Their existing process, using propane torches applied directly, was simply taking too long.  Additionally, maintaining controlled heat at the weld joints was an issue. The site manager was looking for a safer and faster heating process that was also easy to set up.
The Decision Process
Their existing process, using propane torches applied directly, was simply taking too long
Red-D-Arc experts discussed with our customer to understand their heating and temperature maintenance requirements. We suggested RDA Induction Heating System and provided a demo of
ProHeat 35 Portable Induction Turnkey Package with a 60 KVA generator
ProHeat 35 Induction Heating System
When an alternating current is made to pass through a coil positioned around the weldment, the magnetic fields induce localized eddy currents within the conductive material (pipe) . The material itself becomes a heating element as it offers resistance to the current, causing it to heat rapidly.
---
The Solution:  Induction Heating Systems
Consistent heat applied to the base metal lowers the chance of potential weld failures
Pre-heating is a crucial step in various industrial applications, including welding, brazing, and soldering. It reduces the amount of hydrogen and moisture in the finished piece and decreases the rate of cooling. Consistent heat applied to the base metal lowers the chance of potential weld failures like cold cracking. For pre-weld treatments on pipes of various materials, sizes, and shapes, getting the right heating system that can meet a range of requirements is critical to ensure the quality of the welds. Induction Heating  is a highly effective pre-heat option that offers maximum temperature control. As a preferred preheating process for pipe welding, induction heat offers the highest degree of safety, since the welder does not come into contact with the hot pipe.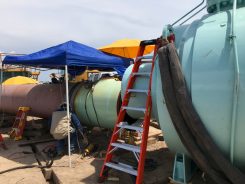 Compared to other pre-heating methods, induction heating reduces or eliminates heat loss. This method also minimizes the temperature difference between the weldment and the welding arc, providing a stable, precise temperature and shorter heating time of the base material.  After applying this solution, our customer was happy with the results, and began to consider induction heating for other pipeline welding projects .  Red-D-Arc was also asked to demonstrate other welding equipment, such as the ES275i Multi-Operator Paks and the EX360 FieldPro Multi-Process Welder w/ArcReach, which we were, of course happy to
Working Remotely
Remote worksites pose no obstacle. We'll bring portable generators with enough power for your portable welders, induction heaters, lighting and anything else that needs power.
---
Resulting Benefits to the Pipeline Project
Operational Flexibility: RDA Induction heating system has a manual programming mode to apply a power output for a specified time and a temperature-based programming mode where the part temperature controls the power output.
Quicker Heating: On procuring the field unit ProHeat 35 induction heating system (suitable to work on pipe diameters of 8-56"), our customer was able to preheat 250' within 5 minutes.
Reduction in Cycle Time: The total cycle time was cut down, and the target time for welding the pipeline by 19 hours was achieved.
Digital Recording Capability: ProHeat 35 air-cooled system allowed them to document the preheat temperatures on an optional digital recorder.
Safer Alternative: Compared to the propane gas preheating option, the RDA Induction heating system offered a secure heating process where the welders could avoid burning by touching the heated weld part.
---
Why Is Induction Heating Safer?
Induction Heating makes work environments safer by inducing heat electromagnetically instead of using bringing the heating element and the part in contact with one another. Using induction preheating systems is a cost-effective method for pipe welding-related applications. Red-D-Arc offers highly-efficient induction heating systems and other welding equipment for rent, lease, and sale.
Benefits of Induction Heating Process
Increased weld time and power efficiency
Rapid and uninterrupted part heating
Ease of use and simple set up
Significant cost savings per week
Specified temperature control and uniformity
Minimal costs due to reusable insulation
Non-exposure to fuel gases, flames, and hot elements
Safer work environment and decreased risks
Varied applications: Part geometries, hydroelectric power generation, post-weld heat treatment, construction, mining, pipelines, shipbuilding, etc.