What Are The Factors To Consider With a Generator Rental?
Share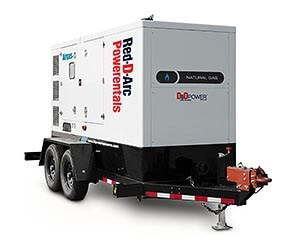 A good generator rental can mean the difference between a profitable and failed project. Generators make it possible for you to source power during natural disasters and in areas without existing infrastructure. When sourcing a generator, you might wonder if buying is better than renting. You might also feel overwhelmed by the many different types of generators you can choose from. This is just the tip of the iceberg when it comes to the factors you need to consider.
Generator Rental Services Vs. Buying
Renting is not the only way you can get your hands on a generator to power a building or in-field project. In fact, generators are fairly common in off-grid locations for both homeowners and business operators.
Buying a generator can lead to tax benefits for you and your business. However, it also requires a great deal of capital and might burden the company with additional debt. If you don't need a generator for all or most business operations or your work covers multiple locations, storing and transporting the generator can become cumbersome.
When you rent, you outsource the upfront cost and the trouble of maintenance, storage, and transportation. In turn, you have convenient access to generators when you need them for a fraction of the cost. You also receive additional support services you might not otherwise have access to if you buy a generator and become independently responsible for it.
Generator Rental Options
There are five main types of generators to choose from. Generators that produce cleaner energy tend to be less efficient and more expensive. Similarly, more efficient generators tend to burn less clean but cost less money.
Solar Generator
Homeowners and camping lovers across America have brought solar generators into the mainstream market. These generators have built-in batteries that are charged via solar panels. They also have inverters that convert the energy from 12 volts to AC power. These are great for emergency preparedness that includes only brief stints of power and low-watt usage. They are not ideal for powering entire buildings or for use on commercial projects. Even a small solar generator that can power a fridge for only 8 to 12 hours can cost as much as $3,500.
Gas Generator
Gas generators are extremely capable, but they do rely on fossil fuels. While they are great for powering homes and use in commercial projects, they are not as powerful as diesel engines. Gas also burns hotter, which puts additional stress on the engine. Additionally, there are more parts to be mindful of and maintain, such as carburetors and spark plugs.
Diesel Generator
The most capable generator you will come across is the diesel generator. It is also usually much smaller than the gas generator and has fewer components than a solar system. Because this has fewer moving parts, there is even less maintenance involved. Water-cooled diesel engines will last for a long time in the field before you need to turn them in for maintenance.
NG-LPG Generator
If you want to balance clean-burning fuel and efficiency, consider generators that use natural gas and propane. These are also great options for companies that might have cheap and constant access to these fuel forms. While they are not the most fuel-efficient generators on the market, they work well enough to power buildings and commercial projects. They also help companies meet sustainability goals.
Diesel-NG Generator
For even greater flexibility, consider generators that can run on both diesel and natural gas. You can still meet your sustainable energy goals by using natural gas for most needs and then switching to diesel power when you need greater capacity. You will also get all the benefits of a low-maintenance system compared to gas.
Capabilities of the Generator Rental Company
If you only need occasional access to a generator rental and usually in the same place for brief stints, you might not need a rental company with big capabilities. However, the more complex your operations, the more you need to consider the following.
Product Support
How well does the company know the generators it rents out? You might be surprised by how many companies are run and staffed by people who are not experts in the field. If the generator stops working or you have questions related to your industry, they might not have the expertise to assist.
Global Deployment
Do your operations take you into rural areas, hard-to-reach areas, or overseas locations? If yes, you need a company that can serve all these locations. Otherwise, you'll find yourself looking for a new rental service every time you need a generator rental to get work done.
The Red-D-Arc Difference
We serve clients worldwide and have deployed generators to some of the most far-flung places to fit their needs. Some of the locations we have served outside of America include the United Arab Emirates, Mexico, Colombia, and Italy. Wherever your generator needs are, we have the resources to help you there. Contact us for a quote.

What Are The Factors To Consider With a Generator Rental? | Red-D-Arc