How Can Power Plants Manage the Challenges of Seasonal Heat and Outages
Share
Seasonal events like heatwaves increase the usage of power-hungry amenities from HVAC units at homes to buildings to reactor coolant systems in nuclear power plants.
Fluctuations in electric power during summer peaks may cause hardware failures and the cessation of business-critical operations for banks, hospitals, FMCG, refineries, and other sectors that need a continuous supply of power.
This enormous strain on the power grid and unpredictable electricity supply could lead to the loss of investment worth hundreds of millions of dollars.
That's where electrical power reliability can protect public health and infrastructure.
Industrial generator rentals provide alternative electric sources that offer a steady stream of high-quality power to minimize production losses and operational downtime.
Power plants can rely on diesel generator sets in their job sites as an efficient emergency power backup source to provide capacity in the event of rising demand or fluctuation in supply.

Diesel Power Generating Equipment as Black Start Units for Grid Resilience
Diesel generators play an indispensable role as supplemental electricity sources in power plants to stabilize grid reliability. Even as the fragile power grid invests in alternative energy sources like wind, hydropower, and solar, there is an increasing need for stationary generators to load off the network.
Diesel load banks and other temporary power generation equipment imitate the original load conditions so that there is no random current supply. With the use of mobile diesel generators, plants can prevent the extended use of emergency generators on the site; and there is no need to entirely depend on the grid in case of rolling outages due to shortages of electricity.
Apart from being considered as favorable modular systems for Distributed Generation, diesel-powered portable generators provide the following features:
Disaster Utility
Utilities may shut down their operations when natural disasters or weather events strike, pressuring the first source of power. Per the DOE's recent estimates, power outages in the U.S. cost the economy almost $150 billion annually. Rental power generators can act as on-demand emergency response systems providing sustainable power from clean diesel fuel.
Quick Start-Ups
Diesel engines are preferred for their environmental compliance and load-carrying capacity. Renting power backup equipment fueled by diesel offers superior performance, a higher ability to support transient power demands, and quick start-ups (almost ten seconds of power grid failure).
Continuous, Reliable Power
Diesel generators provide steady-state output power with minimal deviation within tight limits. The power does not dip with wild fluctuations, which erases the need for oversized generators, preventing load inefficiencies during an electrical blackout.
Clean Fuel for the Future
The Environmental Protection Agency (EPA) has started to impose stricter regulations on diesel fuel sulfur levels since 2006. With less than 15 parts per million of sulfur, the diesel engine power generators use ultra-low sulfur diesel fuel.  The current regulations reduce the particulate matter in the air by 90% compared to the situation before 2011.
Low Fuel Consumption
In several residential to complex integrated systems, diesel generators are used for prime power applications. Systems operators and data centers rely on diesel electrical power generator sets as trustworthy supplements to their primary power supply.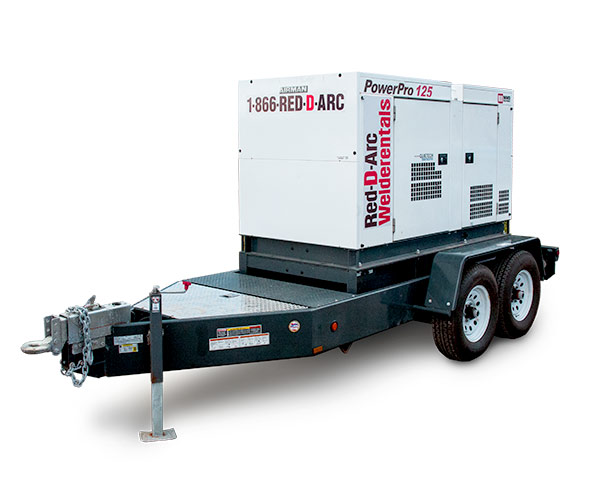 Portability
Permanent installations to resolve capacity issues that occur seasonally may be impractical for some power plants. In such cases, mobile temporary power generators can meet insufficient conductive capacity.
Durable Solutions
High-quality diesel power generation equipment can last for tens of thousands of hours before their first major overhaul. These cost-effective power sources can save installation charges when you reserve them from equipment rentals. There is no risk of ownership and a guaranteed solution in case of an extended power outage.
Power plant operators and equipment managers can benefit from Red-D-Arc's industrial generator rentals as a dependable standby power solution to meet more than average demand for electricity due to summer peak demand.

How Can Power Plants Manage the Challenges of Seasonal Heat and Outages | Red-D-Arc