Supporting Community Development in Vancouver BC
Share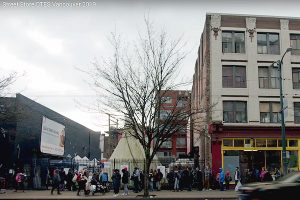 On Saturday, December 12th, Red-D-Arc supplied a 45kVA generator and 4 propane industrial heaters in partnership with BC Rentals, to a local Vancouver, BC event called The Vancouver Street Store. The Street Store is a free outdoor pop-up store facilitated by Employ to Empower, held each December for residents in Vancouver's Downtown East Side. The goal of the store is to provide a dignified holiday shopping experience where residents can choose what they need at no cost, and it's set up like traditional shops, with departments in different tents and volunteers who act as sales assistants.

Sean Waldron, Outside Sales Associate with Red-D-Arc's Vancouver branch, has been involved with The Street Store for several years. He wanted to get Red-D-Arc involved since it's usually cold and raining during the event, and having power and heaters available would allow residents of Vancouver's Downtown Eastside to keep warm while getting their hair cut, waiting in line, or just having a hot meal. Sean volunteered at the event for the entire day, which he says is always an amazing experience. Homelessness and overdoses have been increasing in Vancouver with the homeless population increasing by about 60% this year. An event like The Street Store is crucial for Vancouver's Downtown Eastside, especially after the year we've all just experienced.
Thanks go to Sean and the Red-D-Arc Vancouver team for supporting this event!
To view the Employ to Empower Facebook photo album click here.