How Does the Clearblast 150 Wet Media Blaster Work?
Share
Powerful Clean Wet Media Blasting that Removes Almost Any Coating
If you're trying to remove old paint, hardened epoxy, corrosion, rust or scale you want a powerful cleaning solution that's easy to use. Wet Media Blasting using crushed glass is one of the toughest most reliable methods available.
Built Tough, Easy to Use
The Clearblast 150 wet media blaster provides powerful wet blasting in a portable package. Ruggedly built to take on the toughest blast cleaning jobs, this machine can provide up to 120psi of cleaning power for over an hour straight. The intuitive control panel is easy to understand and first-time users can get set up and start blasting within minutes. Stainless steel piping on a hard steel frame with a powder-coated finish makes this machine an excellent choice for harsh environments and repeated transport and use.

The Wet Blasting Process
1. Water is supplied by the on-board tank or standalone trailer. (uses roughly 1 pint per min.)
2. Abrasive media is added to the hopper
3. Compressed air delivers a stream of wet abrasive media to the cleaning surface like a hail of darts
Wet Media Blasting using crushed glass is one of the toughest, cleanest blast cleaning methods available.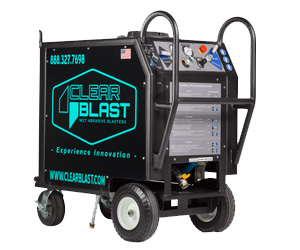 An Excellent Alternative to Sandblasting
Dry blasting methods throw particles against a surface, pulverizing coatings and creating a lot of airborne particles which can be a health hazard and a pain to clean up. It can also damage the substrate, removing materials and compromising surface integrity. Substantial containment and cleanup are involved. Wet Blasting, on the other hand, eliminates more than 90% of airborne dust, uses far fewer blast media and is one of the safest, cleanest, greenest blasting methods available.
Dustless Blasting?
Many blast cleaning systems claim to be "dustless" but what we are really talking about is the reduction of airborne dust particles. If you're using blast media and removing coatings, you're going to have some residue. Wet media suppresses airborne dust and requires far less clean up than other blasting methods. Until someone invents a blaster that destroys matter, there's always going to be some kind of residue leftover from a blasting job.
---
Visit our wet media blasting equipment page.