17,000 Square Ft. Gymnasium Ceiling Renewal
Share
Large Scale Paint Removal Job Using Dry Ice Blasting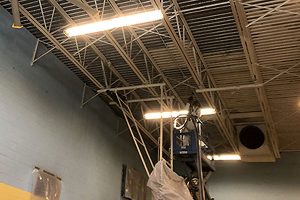 A coating and refinishing company out of New Jersey recently contacted Red-D-Arc for support on a gymnasium ceiling project. The paint on the ceiling was failing and required a re-coat. The client wanted an efficient and environmentally friendly solution requiring minimal cleanup. Dry ice blasting was the method of choice.
Dry ice blasting uses solid carbon dioxide pellets to remove debris without causing damage to the surface being cleaned. The pellets are accelerated to supersonic speeds through a pressurized air stream. The pellets then sublimate on impact.
To support this project, Red-D-Arc supplied the client with high-pressure (200 psi) aftercooled compressors and ColdJet® dry ice blasting equipment. Red-D-Arc also provided a reliable supply of fresh/dense ice pellets, from Airgas®dry ice.
"Red-D-Arc is the only choice for professionals and have been there for me every time on every project!"
– President of Coatings Company,
New Jersey
Airgas dry ice pellets meet or exceed Compressed Gas Association (CGA) standards, and the pellets are manufactured using ColdJet® pelletizers. This brand synchronization allowed Red-D-Arc's client to use dry ice blasting equipment and pellets that were not only compatible with each other but also designed to work together.
Red-D-Arc's ability to provide high-quality dry ice blasting rental equipment, and large quantities of dry ice on demand, allowed the client to engineer a high-performance suite of customer solutions for this unique and challenging project.
The coating and refinishing company's president had this to say about his experience working with Red-D-Arc:
"I've worked with Red-D-Arc for over seven years, during which time they've proven a value-added partner providing rental equipment and expertise to support the largest and most sophisticated dry ice blasting projects. They are the only choice for professionals and have been there for me every time on every project!