Farrow 150 Wet Abrasive Blasting System
Share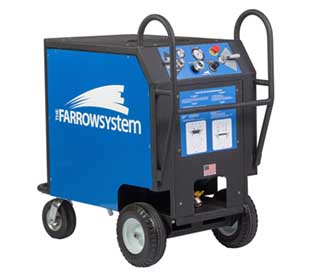 Update: We now offer the ClearBlast 150 Wet Media Blaster for Rent, Sale or Lease.
Red-D-Arc now carries the Farrow 150 – available for sale, lease and rent. The Farrow 150 is the most advanced, versatile, and user-friendly wet abrasive blasting system on the market today.
Wet blasting substantially reduces media consumption and dust while still providing any profile and surface cleanliness required. The Farrow 150 uses 50-75% less abrasive than conventional dry blasting. Air particulates are reduced by over 90%. Less contamination results in lowering clean-up and disposal cost.
Its compact size and weight make the Farrow 150 easy to transport to and from any work site. Blast pressure can be adjusted from 30 psi to 120 psi allowing for maximum range of control. Additional features include pneumatic controls, self-venting and pressuring pot as well as a 25 gallon internal water tank. The main components are now safely protected behind a fully enclosed powder coated frame, protecting the internal surfaces from corrosion for a more reliable, cleaner blast.
Visit our Wet Media Blaster Rentals page for more information on dustless blasting systems