Dry Ice Blasting for Statue Restoration and Quality Preservation
Share
Red-D-Arc's dry ice blasting equipment was provided as part of the restoration effort for the prestigious  Stephen F. Austin statue in Sugarland, Texas. Our team of dry ice blasting specialists delivered solutions to get the project completed with a package consisting of two Cold Jet dry ice blasting machines, two high volume after-cooled 375CFM air compressors, 2,500 lbs of blasting ice (CO2), and on-site operator/safety training.
Red-D-Arc Solution: Dry Ice Blasting for Removal of Coating from Metal Statue
Years of age-related weathering, pollution, and surface contaminants build up on the patina of bronze statues  obscuring the intricate detailing and altering the original look. Restoring these artifacts to their original beauty without compromising their structural integrity and the delicate substrate is the ultimate goal of an efficient historical restoration project. Dry Ice Blasting has become the preferred process for restoring statues, metal, stone, or marble artifacts, monuments, or historic buildings.
Unlike chemical cleaning methods that can corrode the surface, the dry ice blasting process doesn't affect the integrity of the sculpture
Particularly for large metal statues, dry ice blasting is an excellent method of surface coating removal as no secondary waste is generated that needs to be disposed of since rapid heat transfer upon impact causes the dry ice/solid CO2 to undergo instantaneous sublimation.
Unlike other cleaning technologies that incorporate chemicals that can soak into the surface, the dry ice blasting process doesn't alter the integrity of the statue/s and leaves behind only the contaminant that has been removed, making it a non-destructive form of cleaning.
---
The Situation
In addition to the importance of maintaining the integrity of the statue, restorers working in public spaces must minimize the release of  contaminants and airborne waste to the surrounding areas.
Our customer was given the task of removing layers of paraffin coating and natural cellulose lacquer from the prestigious historic statue in question.
Thus, desired results could be achieved using a cleaning method delivering superior operational characteristics that also saves both cost and time.
An advanced and quicker cleaning procedure was required to restore the statue to its former glory.
---
A Note Of Caution:
Bronze is an alloy that is made up mostly of copper (around 90%).  Many bronze statues have a patina (a coating of wax and acid) applied to the surface to add color and control the oxidation process.  While the patina surface of a sculpture is the part that can get dirty and discolored, removing the patina from a bronze sculpture can altar the look of the original piece and leave it open to oxidation afterwards (this may give a green look like the Statue of liberty).  In some cases it may be desirable to have the patina re-applied to a statue after cleaning.  In any case,  it's always best to consult an expert in bronze sculpture before undertaking any kind of restoration project.  You may want to have them on site during the restoration.  The fine control available with dry ice blasting allows for gentle surface cleaning.  It may not be the ideal thing to strip the sculpture down to a single, uniform color as the variation in color on a sculpture may be part of an original effect intended by the artist.
---
The Decision Process
It was crucial to avoid destruction to the scultpture while removing the surface paraffin coating and natural cellulose from the statue; so was bringing down the secondary waste generation and usage of chemical stripping agents.
Once we evaluated the customer's needs, Red-D-Arc suggested the Dry Ice Blasting technique as the most suitable cleaning process.
Our dry ice blasting package included:
---
Customer Background
Our customer provides restoration services for the aging effects, weather damage, and vandalism of outdoor monuments – mural, glass, and sculpture, and preservation of high-worth and historical objects.
Years of experience in the conservation industry keeps the company well-versed in the latest media techniques and ever-interested in sympathetic alternatives.
Cleaning surface contaminants from historical structures without causing damage to the substrate is a delicate process, and our customer is always researching ways to employ rapid and cost-effective, but environmentally conscious cleaning methods.
---
The Result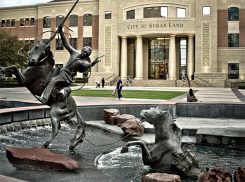 Red-D-Arc's dry ice blasting equipment removed dirt and coating within a fraction of time as compared to more conventional cleaning techniques.
No Toxic Chemicals Released – The customer could achieve improved environmental safety as there were no harmful chemicals used, nor toxic contaminants emitted into the air or surroundings.
Shorter Setup and Project Time – The equipment was easy to install and operate. Thorough cleaning is possible even in intricate areas and tight spots.
Significant Cost Savings – With minimal secondary waste generation, there was no additional labor cost. The rental dry ice blasting equipment was also relatively inexpensive.
Soft and Non-Abrasive Process – Dry ice emitted through nozzles of varying pressures, depending on the work material, is gentle and appropriate for sensitive surfaces of high value. It is non-abrasive and does not cause additional damage to the piece to be restored.
Environmentally Sustainable Cleaning – As the process uses recycled CO2, it is more environmentally-friendly than alternative methods. It is moisture free, non-conductive, and non-inflammable.
Diverse Applications of Dry Ice Blasting

Fire, smoke, water, and mold restoration
Historic preservation on delicate surfaces
Removal of carbon buildup, adhesive, tar, and corrosive contaminants
Reversal of aging effect on historical wood, marble, statue, metal, and more
The multitude of benefits of Dry Ice Blasting have proven it to be an excellent surface and deep-cleaning method for our customers.
Dry ice cleaning for historical restoration and preservation is made safe and cost effective by purchasing, leasing, or renting Dry Ice Blasting machines from Red-D-Arc Welderentals.
Contact our experts to know what dry ice blasting package is apt for your restoration project.
---
The information provided by Red-D-Arc Ltd. ("we," "us" or "our") on blog.red-d-arc.com (the "Site") is for general informational purposes only. All information on the Site is provided in good faith, however we make no representation or warranty of any kind, express or implied, regarding the accuracy, adequacy, validity, reliability, availability or completeness of any information on the Site.