Benefits of Welding Equipment Rental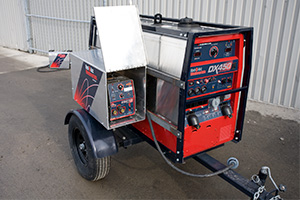 Are you unsure whether to buy your own welding equipment or enter into a welding equipment rental arrangement? There are advantages and disadvantages to either route, but there are many situations where renting may be the better option for your business.

Reduce Capital Costs by Renting Your Fleet

When your budget is tight, investing a large amount of capital in products can be intimidating. With any purchase, there is often a ticking clock against which the return on investment is compared. Capital requests might not always be approved, and timely procurement of products can be a concern, too.

With Red-D-Arc's large inventory of products, you can easily find the equipment that is right for you, with no worries about backorders or supply issues that might cut into your project timeline. Renting ensures that you get access to the equipment you need when you need it without cutting into profits or timelines on the job. 
Renting Frees Up Floor Space

There is usually a "right" tool for every job. However, you may only have a limited amount of space dedicated to manufacturing and storage. To complicate things, sometimes the best tool for a job doesn't see the same amount of use as other essential tools. As a result, you may not have the area at your business to physically devote to storing additional welding equipment when the need to upscale arises. 
Renting your fleet makes scaling your business to the rise and fall of demand that much easier. While scaling up is preferable, scaling down is a useful way to stay lean during an economic downturn. You're paying for every square foot of space that you occupy, so why not minimize the space being used for storage.  Likewise, equipment in storage isn't earning anything for you; in fact, maintenance costs may be a contributor to economic inefficiency. Renting allows you to rid yourself of unused equipment without the hassles of selling.
Renting Provides You with the Latest Welding Technology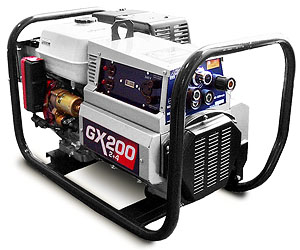 There have been some phenomenal advances in welding equipment by manufacturers like Miller and Lincoln Electric. Indeed, staying on the cutting edge of welding technology requires constant effort; there are not enough hours in the day to evaluate all the options at any given time. Many of these technologies, like the BotX Robot and Lincoln's Surface Tension Transfer (STT) technology, help make the welding process more efficient, save time and improve weld quality. 
Consider rental equipment as a way to more completely evaluate new welding equipment. Renting provides the ability to integrate new solutions into your welding process for longer than a vendor's demonstration, allowing you to measure productivity in your specific application and identify potential hiccups to quickly achieving return on investment.
Renting Welders Reduces Overhead Costs

Proper maintenance is essential for consistent equipment performance and good longevity, but it can certainly be a source of headache. With equipment rental, the need for maintenance does not diminish, but it does cease to be your responsibility. We've got a team of trained technicians that keeps our rental machines running smoothly.
You don't have time to haul equipment into the repair shop when you're trying to finish a client contract.  We can even provide a few extra machines that can be easily swapped in, should something go wrong with one of your live machines. Without the inconvenience of welding machine maintenance, you can focus on the work you're getting paid for. 
Renting Offers Flexibility of Use
When you rent your welding equipment, you have the flexibility to choose your contracts. Whether you need additional welding equipment to cover a quick project or unexpected irregular peak demand, renting agreements can be tailored to your needs. These short-term contracts are great for quick projects or to supplement equipment you might be missing, while long-term contracts are best suited for businesses that require complex welding gear but lack the budget for purchase and upkeep.
Ability To Try Products First
Welding equipment is not only expensive, but it takes trained employees to run the different tools at an expert level. As a business looking to purchase equipment for their welding operations, the ability to try out products first as a rental removes some of the stress of buying something unknown. Renting equipment first will offer a testing environment where businesses can determine if a capital investment is worth buying, or if it is worth continuing to rent welding equipment. 
Get the Best Welding Equipment Selection from Red-d-Arc
If you're ready to rent welding equipment, Red-d-Arc is the premier place to find whatever you may need. Our large online selection is easy to peruse, and makes it easy to find exactly what you're looking for.
Our team members will be glad to explain the benefits of new technologies like this and how they can contribute to the profitability of your business.
If you have any questions, you can just contact us so we can help you find the best solution for your welding needs. Simply click the button below or call us at 1-866-733-3272 to  be  connected  to  your  nearest  branch.
Red-D-Arc Welderentals™ an Airgas company rents and leases welders, welding positioners, welding-related equipment, and electric power generators – anywhere in the world. Our rental welders, positioners and specialty products have been engineered and built to provide Extreme-Duty™ performance and reliability in even the harshest environments, and are available through over 70 Red-D-Arc Service Centers, strategically located throughout the United States, Canada, the United Kingdom, France, and the Netherlands, as well as through strategic alliances in the Middle East, Spain, Italy, Croatia, and the Caribbean. From our rental fleet of over 60,000 welders, 3,700 weld positioners, and 3,700 electric-power generators, we can supply you with the equipment you need – where you need it – when you need it.