Share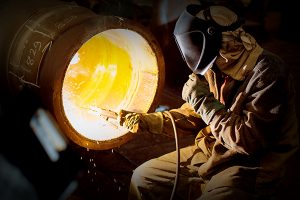 Welding is a cost-effective manufacturing process. However, several factors can significantly increase or reduce the cost-effectiveness and productivity of a welding project. These range from operational efficiency to the use of consumables.
In this article, we will go through 10 ways to significantly reduce welding costs and boost the productivity of welding projects.
1. Avoid Overwelding
Overwelding occurs when a weld is larger than it needs to be. This is a common occurrence in the welding industry, especially with inexperienced welders. An overweld may result when there is no specified weld size in a design, when there is no fillet weld gauge, or when a big weld is created just to play it safe.
Overwelding is a significant resource drain; it uses more arc time, labor, shielding gas, and filler metal, which leads to higher costs. To put this waste into perspective, consider a 1/4″ overweld instead of a required 3/16″ weld: The overweld results in a 78% increase in both weld metal deposition and arc-on time. This goes up to 177% when the overweld is 5/16″.