Share
Importance of Preheating in Welding – Equipment Options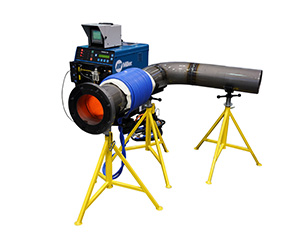 Why preheat?
Preheating reduces the risk of cracking in weld metal and heat-affected zone (HAZ) by:
Lowering the cooling rate of the weld – prevents formation of brittle weld metal/HAZ, allows more time for hydrogen to escape the molten weld.
Removing moisture (hydrogen source) from the part.
Reducing shrinkage by lowering the temperature differential.
Preheat or not?
The requirement and level of preheating for steel is determined by the relevant welding code and is dependent on the weld heat input, chemical composition of steel (carbon equivalent), thicknesses, diffusible hydrogen etc. Non-ferrous materials generally require preheat because of their high thermal conductivity.