Share
An Industry In Distress
The manufacturing industry is in distress. There is a shortage of skilled talent and this gap is only widening. While manufacturing companies are able to make goods faster and cheaper than ever, there is a growing lack of skilled manufacturing employees to ensure that production continues. Industry projections from Deloitte and the Manufacturing Institute, among other industry analysts, predict that over the next decade, more than 2 million manufacturing jobs will go unfilled across the U.S.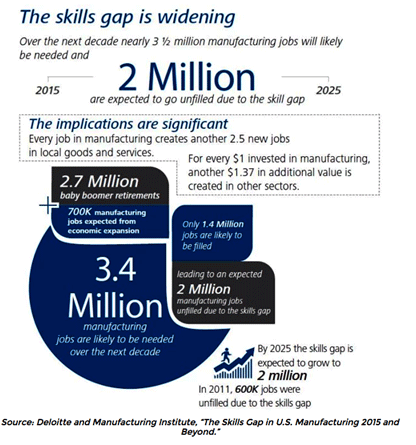 This decline in skilled manufacturing workers is a result of two issues:
1. A very large portion of workers at or near retirement age
2. Incoming generations that are far less interested in the manufacturing industry
Welding is perhaps one of the susceptible areas in manufacturing to this trend because of the skill welding requires. The lack of skilled welders is causing large inefficiencies in the manufacturing industry due to understaffing and also causing pay rates of skilled welders to go higher and higher. Since it does not appear that upcoming generations will have a large participation rate as welders, the solution to the problem will likely be solved by the implementation of automated welding solutions.
Automated Welding Solutions That Deliver ROI
Automated Welding Solutions Come in a Variety of Forms
Automated welding robot machines, automatic welding bugs, automatic orbital welding machines, and even automated resistance welding equipment are being used to help combat the void created by a lack of skilled welders.
The lack of skilled welders is causing large inefficiencies in the manufacturing industry
Although full-auto arc welding machines are part of the remedy, they are not a panacea. Fully-automated welding solutions often require high capital expenditure, require expensive skilled programming personnel, and pose significant safety risks if not set up properly. The trade-off between the benefits of fully-automatic welding machines and their disadvantages led to the development of a new type of automated welding solution: the welding cobot.
Enter: The Cobot (a Collaborative Robot)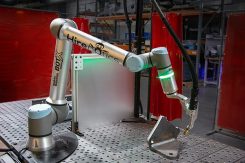 The name cobot is short for "collaborative robot". The increase of cobot development and deployment is revolutionizing the manufacturing industry. Welding cobots are unique welding tools that hold many advantages over other automated welding machines, especially traditional welding robotic systems. Cobots have special mechanisms and move in such a way that enables them to require little to no safety fencing.  While the potential for increased safety without extra costs is an excellent benefit, the most important benefit of cobot use in an automated welding cell is the reduced costs associated with installation and programming.
Robotic Welding Just Got Easier
Traditional automatic robotic welding machines require a high level of skill to program. Oftentimes many years of knowledge and experience are required to set up an automated weld cell; for this reason, many companies elect to hire contractors to do this work for them, adding to the already high cost. With cobots, the programming of the machine is much simpler. The programming software is engineered to be user-friendly, vastly decreasing the instruction time required to train a programmer. This not only lowers the initial costs of programming but also enables a cobot to have a high degree of flexibility. The decrease in programming time and safety equipment and the increase in flexibility typically result in a very short ROI timeline and reduce the dependency on skilled welders and automated welding robot programmers.
Red-D-Arc understands that many of our customers are not immune to the trends affecting the manufacturing industry as a whole. We know that maintaining a technological advantage is key to success. In order to help our customers fight increasing costs associated with the decline in skilled welding employees and complicated automatic welding machines, Red-D-Arc offers collaborative welding robot solutions.
Introducing The BotX-Welder:  The Robotic MIG Welder Solution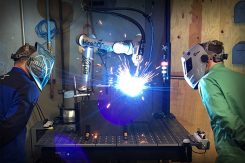 The BotX-Welder is our cobot product solution for our customers. The BotX-Welder package comes with a UR10e cobot arm created by Universal Robots, a leader in cobot development. In conjunction with this robot arm, the Bot-X Welder system also comes with an XMT350 MPa MIG welder and S74 MPa Plus wirefeeder, both made by Miller Electric. A MIG welder torch and a welding fabrication table are also included to complete the cobot welding cell. While the hardware is state-of-the-art, it is the software in the BotX Welding cell that truly sets it apart. The robot arm in the Bot-X automated welding system is controlled by the Hirerobotics application, which can be used with either iOS or Android operating systems. The Hirerobotics app is much easier to use than a traditional automatic robotic MIG or TIG welding machine teach pendant.
A Welding App With All The Robotic Welding Routines You Need
What's more is that the Bot-X Welder also comes with an expansive library of welding routines, with weld parameters made to fit almost any application. Welding can be automatically monitored and recorded through cloud connectivity. This allows remote users to view weld data from anywhere in the world as long as they are connected to the network.  The cost and risks of  new technologies are often high. Red-D-Arc eliminates the risk of failed robotic welding implementations by only charging our customers by the productive hour when using the Bot-X Welder. This enables users to try the machine out, use it as much as they need it, and get rid of it when it the work slows down. This probably won't be a problem, since you'll be able to keep customers happy with a quick rate of output and very high weld quality.  The pay-as-you-go system is much easier and more cost-effective than the traditional hiring and firing of personnel.
Maintaining a technological advantage is key not only to prosperity in the manufacturing industry, it is essential to survival. As more and more efficient means of weld, production is developed and as the number of skilled welding laborers declines, the pressure is on to adapt.
Red-D-Arc has always and will continue to support our customers through industry shifts. The Bot-X cobot MIG welder system is another way we help you keep ahead of the competition.
See the BotX Welder in action live at Fabtech 2019.