Share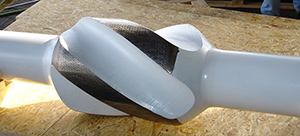 Metallic parts sometimes fail their intended use at a lower stress than they are designated for.
Various forms of wear such as abrasion, impact, metal to metal contact, heat, and corrosion can compromise the strength of metal pieces. This is where hardfacing comes in. Hardfacing is a technique which can be applied to minimize the damage from these types of wear, helping to prolong the life of metal pieces.
What is hardfacing?
Hardfacing —often called hardsurfacing— is the covering of the metallic part with a wear resistant metal by welding. Alloys which commonly need to be hardfaced include carbon alloy and low alloy steels whose carbon content is lower than 1 %. These include stainless steels, manganese steels, cast iron as well as nickel and copper-based alloys.
Metallic parts sometimes fail their intended use at a lower stress than they are designated for.
Techniques, Materials and Costs
The particular hardfacing technique for a job depends on the geometry of the part and relative cost of the hardfacing method. Costs can vary with the deposition rate of the material.
These cost variations can be summarized as follows:
Flux cored arc welding (FCAW) 8 to 25 lb/hr
Shielded Metal Arc Welding (SMAW) 3 to 5 lb/hr
Gas Metal Arc Welding (GMAW), including both gas-shielded and open arc welding 5 to 12 lb/hr
Oxyfuel Welding (OFW) 5 to 10 lb/hr
Applied materials commonly include cobalt based alloys such as STELITE, and nickel based materials like chromium carbide alloys. More advanced materials such as complex carbides containing columbium, molybdenum, tungsten, or vanadium can also be used and provide more overall abrasion resistance. They also have a very low friction factor, which can be used in situations involving severe abrasion.
Hardfacing can be applied to both newly manufactured pieces, in order to prevent deterioration, or to strengthen and extend the life of worn pieces currently in use.
Red-D-Arc provides welding machines suitable for hardfacing using techniques including SMAW, FCAW and GMAW.