Share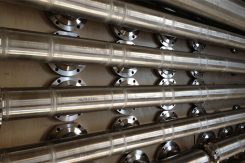 Welding small diameter tubing can be difficult.  The tight radii often require expert welders to deliver precise torch manipulation with finesse.  If the welder is not skilled enough, the out of position areas are at risk of poor quality due to gravity affecting the weld pool and ineffective torch angles.  If out of position welds cannot be completed satisfactorily, the part must be rotated.  However, some assemblies can't be rotated because of size constraints or they might rotate off of center.  If a mechanized welding solution is desired for small diameter components, look no further than our Axxair Orbital Fusion Closed Welding Head Systems.
---
Closed-Head Pipe Welders
Axxair Orbital Fusion Closed Welding Systems are comprised of two main parts: the
Axxair Orbital Fusion Closed Welding Head and the Axxair Orbital Inverter Power Supply.  The Orbital Fusion Closed Welding Head fully encompasses the assembly being welded.  This means that an inert gas environment can be created around the part, preventing it from the risk of oxidation that it might be exposed to during a welding operation that relies solely on a gas nozzle.  The Orbital Fusion Closed Welding Head also has a ring drive that enables full 360 degree motion around the weld joint, all the while keeping a consistent torch angle.  Furthermore, it is capable of going over 360 degrees for when slope-in and slope-out parameters are needed.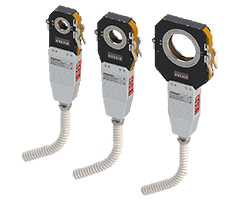 "The Orbital Fusion Closed Welding Head also has a ring drive that enables full 360 degree motion around the weld joint, all the while keeping a consistent torch angle."