Share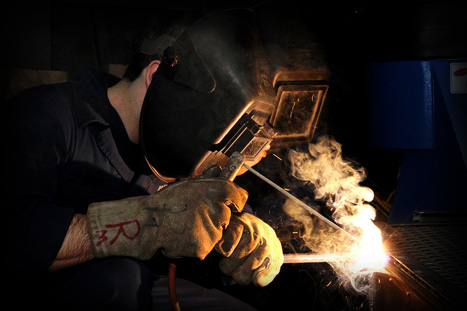 By guest blogger and former shipyard welder David H.
How important is it to remove welding smoke from the work area? Ask a welder, or ask someone who has to work in the vicinity of welders working in enclosed or semi-enclosed areas.
I recall some years ago working on a Navy general cargo ship. The ship was was undergoing extensive renovations and the hold of the had four or five levels. My employer, a small repair yard in San Francisco, unfortunately did not take air quality in the work area seriously. There were more than 20 of us working in the hold, and some number of us were welders. From a distance you could see where the work was being done — smoke and fumes drifting up out of the hold! In those days, safety requirements weren't always top of mind. OSHA and other regulations aside, taking care of your workers by providing a safe work environment is simply the right thing to do. Without them your business can never be profitable. By failing to provide a safe workplace, you may lose workers due to health issues and employee turnover or face consequences for not complying with standards.
"respirators are hot and uncomfortable, and many welders simply refuse to use them"
Fume Removal Options
There are a number of ways to deal with welding fume issues. One approach is the use of respirators. I often wore one, but they are hot and uncomfortable, and many welders simply refuse to use them. They can be remarkably expensive, over the long haul,  given that filters must be replaced daily.  If the mask is a disposable type, the entire mask must be replaced daily.
Portable Smoke Extractors
Portable smoke extractors – sometimes referred to as smoke eaters – are a far better solution. They remove a higher percentage of the fumes than respirator masks and protect everyone in the work area, not just the welders. They can be moved around the job site and from one job site to another, but can also be set up at permanent work stations.  These machines can help make sure that your work space is a place where people can get their work done safely. Your employees will thank you.
To view the smoke extractors Red-D-Arc offers for rent head over to our welding fume extractor rental page.
We also have used smoke extractors for sale on our used equipment page.