Miller's Pipeworx Welding System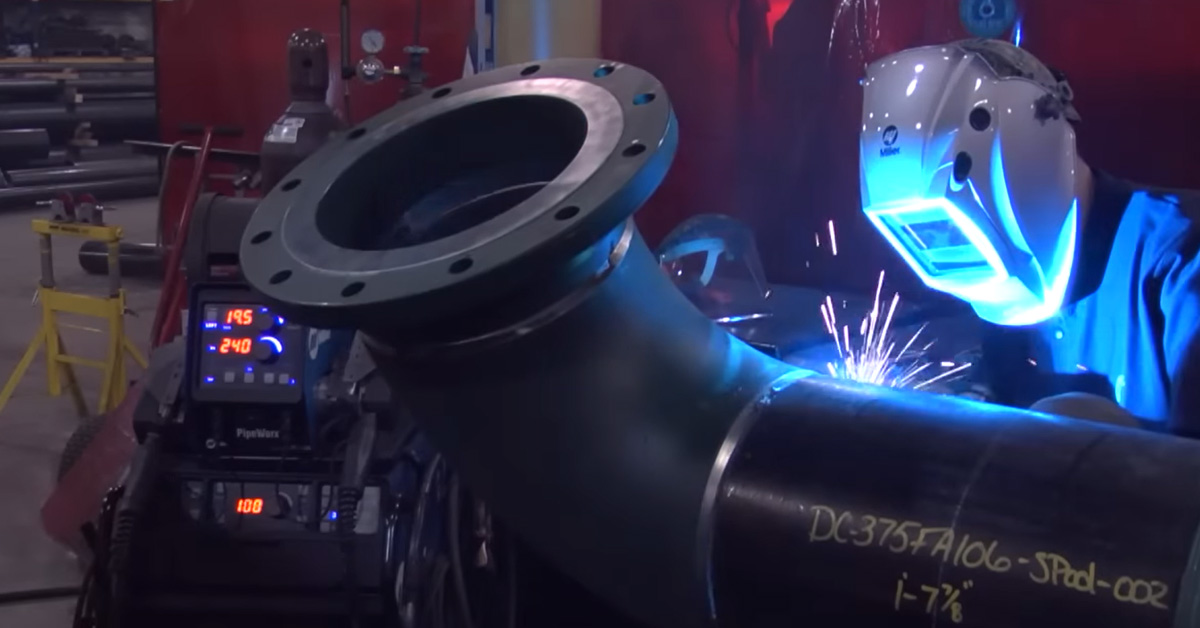 Having the right tools for the job can make a difference between being profitable and breaking even. And in the world of welding, select welding power sources capable of providing improved performance in target applications than others.
 As an example, machines designed for welding in the field may be rugged to meet reliability demands in challenging applications but may lack the features needed in a manufacturing environment to achieve optimal productivity and ease of use.
"The pipe shop" is a unique subset of the manufacturing environment, and pipe welding certainly has unique challenges. Miller's pipe welder is a flagship welding system that is purpose-built for pipe welding and engineered with feedback from welders in the pipe shop.
A Welding System
The PipeWorx 400 is a welding power supply, but the PipeWorx Welding System is the combination of equipment—power source, dual wire feeder, and running gear—that helps to maximize performance. Running gear is the industry term for the various accessories that make moving the power supply to various workpieces around the shop much easier. 
The rolling cart features a dual-cylinder rack which makes transporting both argon and argon/carbon dioxide shielding gasses faster and safer. The running gear also features innovative cable and gun management solutions that help to keep a tidy and trip-free work environment. This is especially useful considering that the PipeWorx system is capable of switching between processes without needing to disconnect guns, torches, or stingers.
High-Output Multi-Process Welding
The Pipeworx 400 provides plenty of power for tackling a wide range of pipe wall thicknesses with virtually every process commonly found in the pipe shop. 400 amps of output current is available at 100% duty cycle when gouging with 5/16" and smaller carbons or welding with the SMAW, GMAW/MIG, and gas shielded flux-cored processes. Note that these processes use direct current electrode positive (DCEP) polarity. The machine also allows GTAW/TIG welding with 350 amps of output current at 100% duty cycle. This process uses direct current electrode negative (DCEN) polarity.
With conventional machines, switching processes involves reconfiguring the position of the work (ground) lead and the welding lead between terminals/lugs. Although this process is not complicated, it costs a small amount of time that, over the course of a year or large project, can certainly add up. For maximum productivity, the Quick-Select technology featured on the PipeWorx Welding System allows making polarity changes at the press of a button. This is especially useful after depositing a high-quality root/hot pass with the precision and control that GTAW offers but completing the remaining passes with a higher deposition rate process such as GMAW/MIG or FCAW-G.
Improving Control at the Root
Both GTAW and GMAW can be used to deposit sound root and hot-pass welds, but GMAW is certainly faster. The RMD—Regulated Metal Deposition—waveform featured on the PipeWorx 400 machine can help to speed the process further by improving quality and ease of use when depositing this critical pass.
Conventional methods of depositing a root pass on an open-root joint involve the use of low-current welding parameters that produce a short-circuit transfer. But any instability in the transfer caused by joint variation or technique can lead to issues such as spatter or lack of fusion. RMD is a proprietary waveform that assists the shorting event for a more stable arc and calmer weld puddle. The result is a process that is easier to use by welders of all skill levels.
The Right Process for the Job
But the RMD waveform is designed almost exclusively for root pass welding. After depositing this pass, it is time to consider which process to use next. Fortunately, the dual wire feeder supplied with the PipeWorx Welding System makes selection easy, no matter if you are welding using a welding positioner or are otherwise locked in a fixed position. For pipes to be welded in the 1G rolled position, most shops will elect to use a constant voltage or pulsed-spray transfer. The PipeWorx 400 features the flagship AccuPulse waveform, which is excellent for achieving the smoothest and most stable transfer when welding in position. Typically, the pulsed-spray transfer uses the same wire as the RMD root pass.
When welding in a fixed position, a filler metal change is suggested. Although pulsed-spray transfer can be used for fixed position welding, it is often preferable from a productivity standpoint to use an all-position gas-shielded flux cored wire. This is where the dual feeder becomes an excellent feature, as it minimizes the need for changeover when performing a single task, or multiple throughout the day.
Conclusion
If your day-to-day challenge is pipe welding, chances are good that the PipeWorx Welding System has features that can address complications to achieving high productivity while maintaining high quality. But also consider obtaining the tools you need from a partner who understands both the operation of these tools and the need for sourcing them in a timely fashion. Contact us today to learn how our experience with pipe welding and PipeWorx Welding System can translate to operational efficiency.
Red-D-Arc Welderentals™ an Airgas company rents and leases welders, welding positioners, welding-related equipment, and electric power generators – anywhere in the world. Our rental welders, positioners and specialty products have been engineered and built to provide Extreme-Duty™ performance and reliability in even the harshest environments, and are available through over 70 Red-D-Arc Service Centers, strategically located throughout the United States, Canada, the United Kingdom, France, and the Netherlands, as well as through strategic alliances in the Middle East, Spain, Italy, Croatia, and the Caribbean. From our rental fleet of over 60,000 welders, 3,700 weld positioners, and 3,700 electric-power generators, we can supply you with the equipment you need – where you need it – when you need it.