Types of Lincoln Wire Feeders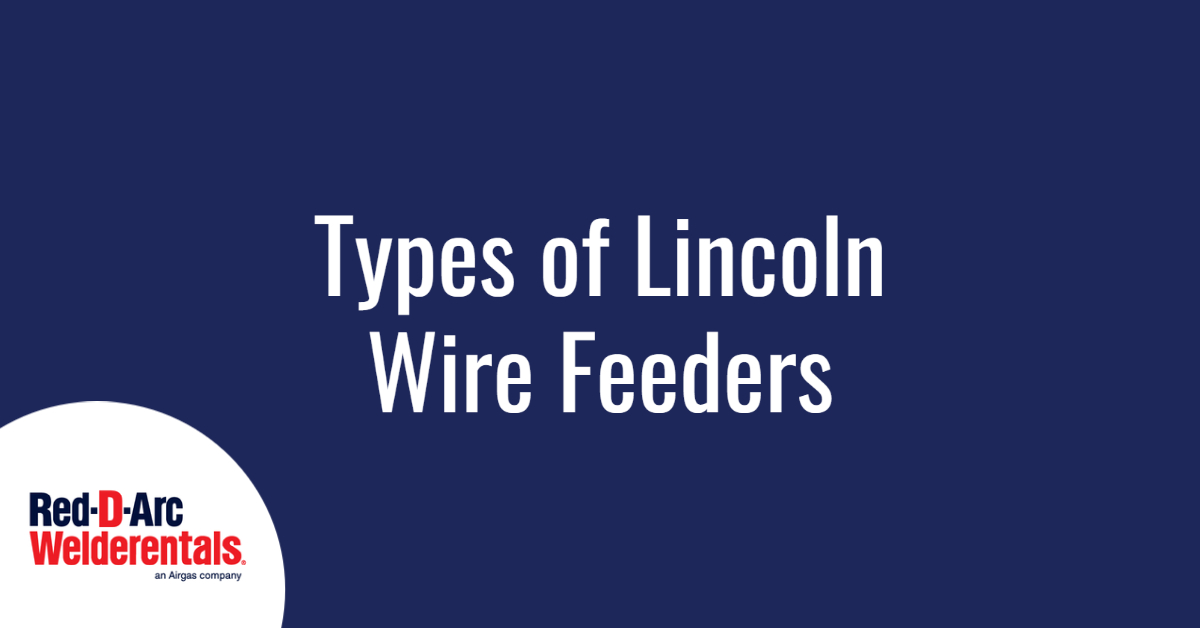 Consistent delivery of the welding wire is essential to maintaining an efficient welding process. Fortunately, this is easily accomplished by using purpose-built equipment from industry-leading manufacturers—such as Lincoln Electric. Like welding power sources, wire feeders are often specially designed to meet the needs of a target industry or application, including various options of process type, wire type, payoff type and size, durability, portability, connectivity, and more. Here are the different types of Lincoln wire feeders.
Semi-Automatic Wire Feeders
Semi-automatic wire feeders used in the MIG welding process. The welding filler wire is fed to a welding torch by the wire feeder. There are numerous types of semi-automatic wire feeders and each feeder is suited for specific applications.
Integrated Wire Feeders
On commercial and light industrial welding power sources, the wire feeder is integrated directly into the welding power supply. This takes the guesswork out of selecting the most suitable feeder. The smallest power supplies may have limited options as to the size of wire payoff (spools) that can be used. However, these smaller units are portable and not intended for the high productivity and operator factor as their larger counterparts. 
Benchtop Units
Bench wire feeders are typically used with stationary equipment. Weight may not be a consideration if the unit will be stationary atop a welding power source. When this is the case, a dual wire feeder is a favorable option, since it allows wires of different diameters and types to pull from the same power source, greatly reducing changeover time.
Weight must be considered when you want to mount a wire feeder to a boom in order to extend reach while also reducing cable clutter on the floor. For this reason, Lincoln also offers boom wire feeders that separate the wire feed unit from the controls to allow ease of access.
Suitcase Wire Feeders
Suitcase units are typically designed with portability and durability in mind. The enclosure protects the wire in outdoor fabrication environments such as shipbuilding and structural steel construction sites. Suitcase units are available in sizes to accommodate 15-lb or 33-lb spools.
Advanced Process Wire Feeders
Since welding technology has become more sophisticated, and the demand for increased productivity has grown, wire-feeding systems have truly changed the game. For example, suitcase wire feeders have the ability to communicate with the power source to allow voltage to be adjusted at the feeder—as opposed to the power source much farther away. Special models of benchtop and suitcase feeders are also required to harness the additional control set of pulsed waveform capabilities. These models typically feature digital displays with a user interface with menus to navigate control features.
Automatic Wire Feeders
In contrast to semi-automatic wire feeders, automatic wire feeders are designed to be integrated into mechanized or robotic systems. This presents some challenges because the wire feeder may be located some distance from the operator. Automatic wire feeders are also tasked with the most productive of welding processes (SAW or high-amperage GMAW).
Robotic MIG/GMAW Wire Feeders
Robotic welding wire feeders must provide high wire speeds, sufficient torque to pull wire from bulk packaging some distance away, and low weight to mount to a robotic arm. Unlike semi-automatic feeders, robotic wire feeders do not have a readout or voltage adjustment. Instead, these settings are controlled at the robotic teaching pendant integrated with the welding power source. However, many robotic wire feeders have buttons that control wire jog and purge to simplify set-up and maintain the robot's functionality.
Submerged Arc Welding Wire Feeders
Wire feeders for submerged arc welding are often mounted relatively close to the welding torch. However, they must deliver signals sometimes over great distances. Compared to conventional GMAW/FCAW wire feeders, the drive motors tend to be larger, provide higher torque, and offer lower wire feed speeds. However, some SAW wire feeders are designed for mounting onto a tractor— meaning they cannot be excessively bulky.
Wire Feeders for Welding Aluminum
A spool gun is a great choice for welding aluminum—a delicate wire that requires extra care to achieve proper feeding. Spool guns integrate the wire payoff and wire feeder into the welding torch to reduce the total distance the wire must travel to the contact tip. However, the tradeoff is that spool guns are often comparatively heavy/not ergonomic and are limited to 1-2 lb. wire spools that require frequent changeover in a high-productivity environment.
Spool Guns are an alternative to the combination of a push-pull gun and semi-automatic feeder. Push-pull guns are a popular choice when welders need larger wire payoffs and the workpiece is located some distance from the power source. The gun has a wire feeder built into the handle of the torch, but it's intended to work alongside the semi-automatic feeder. In this way, using a semi-automatic wire feeder alone helps minimize the risk of birds nesting in wire kinks.
Conclusion
Whether you're welding aluminum, working with a robot, welding outdoors on a Jobsite, or welding indoors in a production environment, chances are high that a Lincoln wire feeder would make your job easier. Some feeders are designed with ruggedness and simplicity in mind, while others are more focused on harnessing the latest advancements in welding technology. If you aren't sure which wire feeder is the best fit for you, don't hesitate to contact us today! Our experts can help you learn about your options so that you can complete your job safely and accurately.
Red-D-Arc Welderentals™ an Airgas company rents and leases welders, welding positioners, welding-related equipment, and electric power generators – anywhere in the world. Our rental welders, positioners and specialty products have been engineered and built to provide Extreme-Duty™ performance and reliability in even the harshest environments, and are available through over 70 Red-D-Arc Service Centers, strategically located throughout the United States, Canada, the United Kingdom, France, and the Netherlands, as well as through strategic alliances in the Middle East, Spain, Italy, Croatia, and the Caribbean. From our rental fleet of over 60,000 welders, 3,700 weld positioners, and 3,700 electric-power generators, we can supply you with the equipment you need – where you need it – when you need it.