Lincoln's Dual Maverick Diesel Engine Driven Welder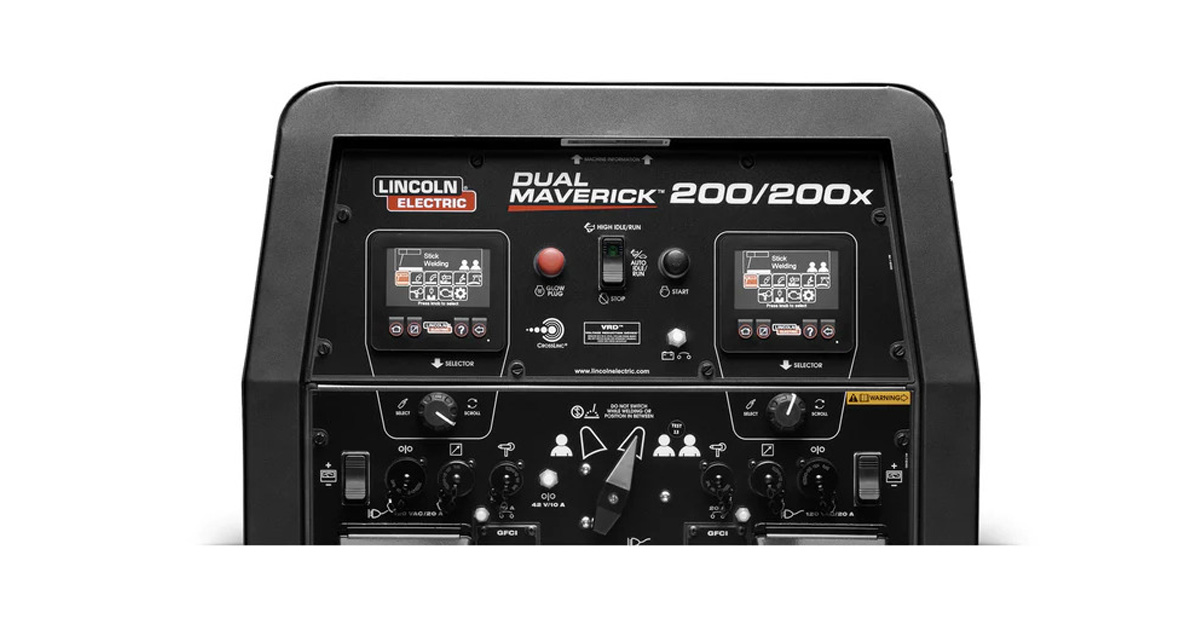 Lincoln's Dual Maverick Diesel Engine Driven Welder
How did the Dual Maverick 200/200X get its name? When you glance at the front panel of this diesel engine-driven welder, you might start seeing double: two front panels and two sets of output lugs. As the name implies, the Dual Maverick 200/200X is a dual-operator welding power source. The 24.8 horsepower water-cooled Kubota diesel engine in the Dual Maverick has the capacity to allow two welding operators to weld independently of one another.
The alternative is to supply each welding operator with their own engine-driven welding machine, but this approach has drawbacks. Placing this extra equipment on the jobsite creates additional clutter and requires additional maintenance. Likewise, the one welder/one welding machine approach is less fuel-efficient. Lincoln Electric claims that a multi-user welding machine like the Maverick Dual 200/200X can reduce fuel and maintenance expenses by up to 33% per 1000 hours, which equates to approximately one year of "typical" use.
---
More Features for Efficiency… And Savings!
These fuel and maintenance savings are also the result of smart features built into the power source. The Maverick Dual 200/200X offers variable engine RPM that scales accordingly to the output power required. Likewise, with Auto Stop/Start the engine will automatically shut down after a period of inactivity. But what about when it is time to resume welding? The machine can be restarted without a trip to the power source: an operator only needs to tap the wire or stick electrode to the workpiece to start the engine back up.
Saving trips to and from the power source is an excellent way to increase time spent welding. Even more trips can be saved using the CrossLinc technology found onboard the Maverick Dual 200/200X. Without this technology, welding operators must return to the power source to adjust their welding amperage (in the case of SMAW) or welding voltage (in the case of FCAW-S). Using either the CrossLinc Remote or a CrossLinc enabled wire feeder to save trips to the power source also presents an opportunity not just to ensure compliance to the WPS, but also to ensure that every weld is made with the optimal settings for the material thickness, position, etc.
Lincoln Electric estimates that the CrossLinc technology is able to address a welding operators need to make at least 4 weld setting adjustments per day and that eliminating these 4 trips can save approximately $14,000 per year!
---
More Than a Welder
When its time to perform field repairs, this engine-driven power source has the capability of arc gouging with a current of up to 450 amps in single-user mode, and 250-amps per operator in dual mode. This means it is possible to effectively use carbon electrodes ranging from 1/8" to 3/16" in dual mode, and 1/8" to 5/16" in dual mode.
When the Dual Maverick 200/200X isn't being used as a welding and gouging power source it can be put to use providing jobsite power. The machine is capable of providing up to 10KW of single-phase AC through a 240-volt and multiple 120-volt receptacles located on the front panel.
The Dual Maverick 200/200X packs a lot of potential savings through both the machine output specifications and the technology found onboard. Keep in mind that many of these features benefit two welding operators with just one piece of equipment! If this piece of equipment sounds like the addition you need to your fleet, contact Red-D-Arc to learn more about the Dual Maverick 200/200X and other welder rentals.
Red-D-Arc Welderentals™ an Airgas company rents and leases welders, welding positioners, welding-related equipment, and electric power generators – anywhere in the world. Our rental welders, positioners and specialty products have been engineered and built to provide Extreme-Duty™ performance and reliability in even the harshest environments, and are available through over 70 Red-D-Arc Service Centers, strategically located throughout the United States, Canada, the United Kingdom, France, and the Netherlands, as well as through strategic alliances in the Middle East, Spain, Italy, Croatia, and the Caribbean. From our rental fleet of over 60,000 welders, 3,700 weld positioners, and 3,700 electric-power generators, we can supply you with the equipment you need – where you need it – when you need it.