Benefits of Lincoln MIG Welders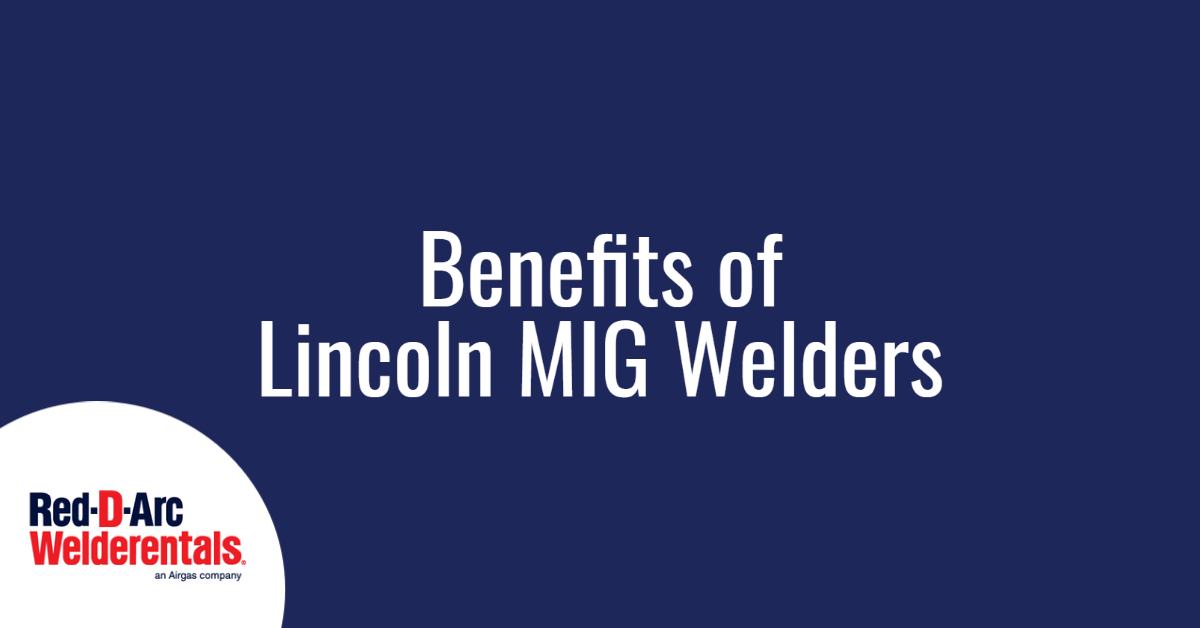 Lincoln MIG welders offer many benefits for all welding businesses, no matter how big or small. The MIG welding process is most commonly used for repairs and fabrication. So, it's wise to consider quality equipment from one of the biggest welding brands in the USA.
Learn how MIG welding works and how your shop can benefit from Lincoln MIG welders. We'll also discuss different MIG welder models from Lincoln and their unique advantages.
What is MIG Welding And How Does it Work
Gas metal arc welding (GMAW), popularly known as MIG welding, is an arc welding process that requires a shielding gas and a solid wire that acts as an electrode and a filler metal. 
The automatic wire feeder pushes the wire through the MIG gun and into the welded joint. When the electrically charged wire (from the power source) makes contact with the grounded metal, the resistance to electrical flow melts the wire and the welded material. 
The MIG gun also releases the shielding gas through the nozzle as soon as you press the gun's trigger. The shielding gas protects the joint from the atmosphere to prevent oxidation, porosity, and other weld defects. The most commonly used shielding gas for MIG welding is a mixture of 75% argon and 25% carbon dioxide. But 100% CO2, tri-mix gasses, and other gas mixtures are sometimes required. The gas selection mainly depends on the welded material, costs, and desired weld characteristics.
MIG welding is commonly used as a semi-automatic process, but it's fully automated in large production facilities. This welding process dominates the welding industry thanks to many advantages like ease of use, fast travel speed, high deposition rate, ability to weld in all positions, low hydrogen content, minimal post-weld cleaning, and practically unlimited electrode length.
You can use the MIG welding process to weld almost all metals with exceptional weld quality. Some welders like the Lincoln Power MIG 350MP can even achieve TIG-like, "stack-of-dimes" weld appearance on aluminum with a modified MIG waveform. But unlike TIG, MIG is far faster and easier to learn.
Why Choose Lincoln MIG Welders
Lincoln Electric is one of the largest welding equipment brands in the world. With over 125 years in the industry, Lincoln serves welders from general and light fabrication to offshore, pipeline, shipbuilding, construction, power generation, and automotive industries.
Using Lincoln MIG welders has many advantages, so let's name a few and discuss some MIG welder rentals you can get from Red-D-Arc.
Lincoln Arc Technologies 
Numerous proprietary arc technologies provide Lincoln power sources with a reliable, stable arc you can count on. The Diamond Core Technology delivers a forgiving arc with low spatter and a wide voltage sweet spot for the set wire feeding speed. It makes welding steel, stainless steel, and aluminum easier, even for out-of-position welding.
More advanced welders like the Power MIG 350MP or Lincoln Power Wave machines offer patented waveform technologies like Pulse-on-Pulse and Power Mode. Specialized arc modes allow you to improve weld quality and productivity in industry-specific applications.
Reliability
Lincoln MIG welders are tough, durable, and reliable. Featuring potted and trayed PC board protection and industrial cast aluminum drives, even their least costly units offer above-average reliability. 
Angled cast aluminum drive systems include split guides for excellent wire support through the entire drive system. The brass-to-brass gun bushings improve electrical current flow, while the input bushing protects the wire from damage. The internal tachometer feedback drive system maintains constant wire feed speed, which results in consistent welds. The wire drive systems may vary according to the Lincoln MIG welder model, but if their welder includes an integrated wire drive, you can count on reliable wire feeding.
Lincoln MIG welders are manufactured at ISO 9001:2000 and 14001:2004 certified facilities. These certificates mean that every Lincoln MIG welder is produced according to international environmental standards with a high-quality management system and a strong customer focus.
Ease of Use
Designed with productivity in mind, Lincoln MIG welders are quick and simple to set up. Featuring infinite adjustability, an easy-to-set wire drive, and provided settings charts, Lincoln MIG machines work well even for novice welders.
More advanced models like the Power MIG 255C and Power MIG 350MP also feature digital displays and Synergic MIG welding (Power MIG 350MP) for easier setup. While features vary between models, all Lincoln welders are relatively easy to use. 
Lincoln Power MIG 180C
The Lincoln Power MIG 180C wire feed welder is a lightweight, portable MIG/Flux-cored welder that welds up to 3/16″ thick steel and aluminum. If you use a gasless flux-cored wire, you can weld up to 1/2″ thick steel.
You can deposit filler material quickly and achieve excellent penetration with the wire feeding speed (WFS) of up to 500 IPM. Plus, Diamond Core Technology and infinite voltage and WFS adjustability allow you to fine-tune your welds just right. The Power MIG 180C is designed for light industrial welding and general repairs on auto body and farm work. It's spool gun compatible (plug and weld), and features a no-hassle tool-less design for polarity switching and wire spool mounting.
Lincoln Power MIG 255c
The Lincoln Power MIG 255C wire feed welder is far more powerful than the MIG 180C. The Power MIG 255C outputs up to 300A with a maximum WFS of 700 IPM, allowing you to weld thick materials faster with a high deposition rate. As a result, you can bridge gaps quicker and achieve excellent penetration. 
While heavy at 220 lbs, the Power MIG 255C has a built-in set of wheels for efficient movement. This machine features an industrial wire drive, digital displays, a 115V auxiliary receptacle, and is spool gun ready (up to 3/64″ aluminum wire diameter). The Power MIG 255C is a powerful MIG/Flux-cored welder designed for industrial production, welding shops, maintenance, and repair work.
Lincoln Power MIG 350MP
The Lincoln Power MIG 350MP Push-Pull One-Pack is a heavy-duty multi-process welder that supports MIG, Flux-cored, TIG, and stick welding processes. But, it also includes advanced Lincoln waveforms like Pulse-On-Pulse for double pulsed MIG welding and Power Mode for low voltage application on thin materials. 
The Power MIG 350MP also supports standard pulsed MIG for improved performance on thin stock, and you can use Synergic MIG for easier weld adjustments. With up to 350A and 700 WFS, you can employ advanced waveforms to weld thick metal more efficiently than with the MIG 255C. Plus, the Power MIG 350MP has a longer duty cycle than the Power MIG 255C (60% at 300A vs. 250A at 40%). The Power MIG 350MP is an excellent machine for versatile metal fabrication, auto body, and repair jobs. 
If your operators must use welding processes other than MIG and FCAW, the Power MIG 350MP has the advantage. But, if you often fabricate or repair aluminum parts, the Power MIG 350MP is among the best MIG welders you can use. Thanks to Pulse-On-Pulse, you can achieve TIG-like welds using an efficient MIG welding process. Plus, the Power MIG 350MP supports a push-pull gun, which is more productive for aluminum welding than a spool gun.
Rent or Lease From Red-D-Arc
Red-D-Arc has a vast rental welding and cutting equipment fleet strategically placed across North America. Sometimes it's not cost-effective to purchase welding equipment. While Lincoln MIG welders offer excellent quality, it may be more profitable to rent or lease their machines.
Contact us today to get a quote on welder rental rates, or ask our experts to help you choose suitable equipment. Our goal is to provide all of our customers with the right equipment for the job at hand. So, we can help you make the proper welder selection depending on which features are most needed for your application.
Red-D-Arc Welderentals™ an Airgas company rents and leases welders, welding positioners, welding-related equipment, and electric power generators – anywhere in the world. Our rental welders, positioners and specialty products have been engineered and built to provide Extreme-Duty™ performance and reliability in even the harshest environments, and are available through over 70 Red-D-Arc Service Centers, strategically located throughout the United States, Canada, the United Kingdom, France, and the Netherlands, as well as through strategic alliances in the Middle East, Spain, Italy, Croatia, and the Caribbean. From our rental fleet of over 60,000 welders, 3,700 weld positioners, and 3,700 electric-power generators, we can supply you with the equipment you need – where you need it – when you need it.