Share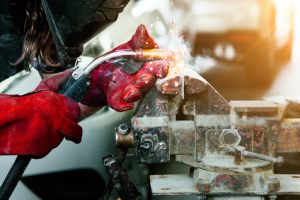 Whether you are a professional or amateur gearhead, the automotive shop you work in requires a lot of tools, technology, and know-how to bring a project from start to finish. In that process, welding is one of many critical skills in the world of automotive fabrication and repair. Like all skills, staying sharp on the tools and techniques used in automotive welding can certainly pay dividends by making your work higher quality, faster, and easier.
Welding Processes for Intake and Exhaust Fabrication & Repair
Intake and exhaust components often utilize either Gas Metal Arc Welding (aka MIG) or Gas Tungsten Arc Welding (aka TIG). When comparing the two processes, TIG offers a much greater degree of control at the expense of speed and ease of use while MIG offers improved speed and ease of use at the expense of precision. It is possible to fabricate complete systems using either process, but muffler repair shops working on consumer-grade and OEM components typically employ MIG, while custom fabrication typically employs TIG.
Many of these custom fabrications (an example being intake manifolds) utilize exotic materials such as titanium to help reduce weight. The difficulty in forming these materials to the desired radii often require "pie cuts" to be pieced together, which requires a lot of precise welding and fabrication know-how. Here, TIG has a distinct advantage, since the ability to feed filler wire independently of the heat source allows for sufficient penetration while producing aesthetically pleasing welds requiring minimal—if any–post-weld finishing.
 A power source such as the Miller Dynasty 200 AC/DC TIG Welder allows for direct-current (DC) operation on carbon, stainless, low-alloy steels such as "chrome-moly" (often AISI 4130 and similar steels), and titanium. With a button press and a change of filler wire, it is possible to weld aluminum and magnesium using the power source's alternating current (AC) output.
A Tip for Welding Intake and Exhaust Components:
Keep Gaps to a Minimum. Spending time learning layout theory can greatly reduce the time spent achieving perfect fit-up. Like painting, spending time with preparation is key to reducing headache later. (more…)