Innovative Solutions In a Time of Crisis
In the midst of the current global pandemic, massive challenges to public health and safety have impacted the global economy resulting in significant levels of unemployment in many countries. While small businesses are scaling down or declaring bankruptcy, critical industries like manufacturing are stepping up to meet the challenges of the pandemic. Rapidly deployed, innovative solutions are helping provide much-needed medical devices, services, and supplies.
Red-D-Arc Innovates with Robotic Welding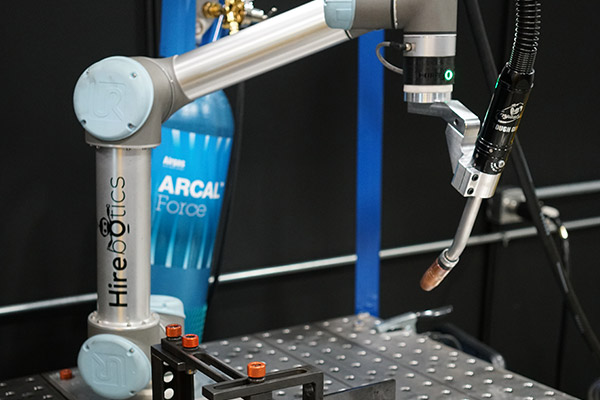 Since systems are at full capacity, custom metal fabrication and welding equipment industries are also in high demand to support production for medical devices and diagnostic equipment. Throughput is the most critical key performance indicator (KPI) for manufacturers, and an efficient rate of production requires consistency and high-quality output.

The combination of a skilled-labor shortage and a requirement for social distancing creates a challenge for many organizations. Most often, since manufacturers and welders are pressed for time, this impact on productivity can lead to lower weld quality and increased rework. The time and money spent on post-weld cleanup can be a major blow to throughput in a manufacturing facility, sending further interruptions to the supply chain of critical infrastructure in this crisis.
Red-D-Arc solves this problem through robotic welding.
Human labor and automation naturally spell efficiency when paired up, but desperate times call for innovative measures, especially when the workforce cannot be present due to public health threats. Red-D-Arc is a leader in welding automation solutions and has teamed up with Hirebotics to develop the BotX Welding Cobot.
Since BotX is a cloud-connected robotic welder with real-time monitoring, it provides manufacturers with access to continuous welding and production data. Operators can control BotX using the Hirebotics app on iOS or Android, while setting welding parameters like voltage, travel speed, and torch angle for the optimal weld environment and quality.
Each manufacturing facility caters to its own protocols, but BotX can be configured correctly through its welding product library to adapt to the facility's welding process. Potential issues can be resolved quickly with the BotX cloud connectivity feature. This smart welding innovation helps to keep manufacturing facilities productive and may lead to increased throughput.
With zero upfront investment, and billing limited to productive work hours, manufacturers gain the advantages of robotic welding without the need for large capital spending. BotX serves as a workforce multiplier on an as-needed basis without compromising employee safety.
Robotic welding is an ideal solution for critical industries aiming to produce metal parts, , and components for fast and precise manufacturing of medical equipment.
---
Safely Serving Health-care Providers: A Priority for Airgas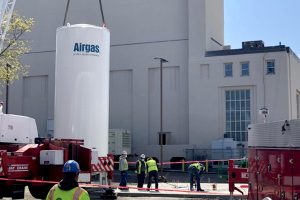 As COVID-19 typically attacks the respiratory system, treatments may include liquid oxygen or hyperbaric oxygen supply. With the influx of virus-stricken patients at hospitals and the associated surge in demand for mechanical ventilators and oxygen-therapy equipment, hospitals are running on critical supply as medical gas suppliers are scrambling to meet 5
Despite the demand spike, supply shortages will not be part of the equation even as some hospitals experience low levels of medical oxygen. Airgas, an Air Liquide company, communicates directly with hospitals through its region-based specialists to track and maintain the inventory levels of critical medical gases for emergency oxygen equipment. As COVID-19 cases fluctuate in certain states, both Airgas and Air Liquide are working to transfer cylinders from non-critical areas to critical areas and to prepare transferable assets for mobile treatment centers.
The proactive efforts of Airgas in ramping up domestic gas operations can mainly be attributed to its experience in anticipating the peak demands of flu seasons and in supporting natural disaster evacuations. This expertise, along with a national network of 50 gas production plants and 370+ cylinder fill plants, enables Airgas to open up logistical bottlenecks.
Airgas is experiencing high-volume orders of critical medical gases in response to its COVID-19 efforts. Since Airgas touches on so many critical points in the US supply chain—from to pharmaceuticals and energy—Airgas is listed by the FDA and NEMA as an essential supplier. Outside the medical supply chain, Airgas also offers high-pressure oxygen gas and liquid oxygen in various grades for shielding gases in welding applications.
---
Air Liquide Teams Up to Produce 10,000 Respirators in 50 Days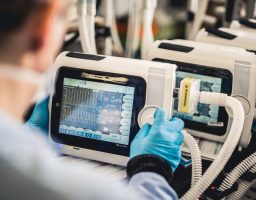 Air Liquide has risen to the challenge of the pandemic by forging alliances with the other industrial groups including Groupe PSA, Schneider Electric, and Valeo to produce 10,000 respirators over a 50-day period.
A move to save lives was initially spearheaded by Air Liquide Medical Systems (ALMS) through its efforts to triple production capacity, with the goal of producing 1,000 respirators. However, in an effort to address the urgent need of the French government to combat COVID-19, Air Liquide and its working group have devised a plan that calls for the delivery of 10,000 respirators in a six-week time frame from April to mid-May.
Air Liquide leads the planning and coordination of the project as it passes through three critical phases:
Procurement: Securing the 300 components that make up the respirators from 100 suppliers, with purchasing specialists working in tandem with experts in mechanics and electronics
Reorganization of production workshops: Air Liquide Medical Systems will increase its production rate capacity by 70x, with three additional lines and three teams working six out of seven days, complete with pre-assembly and final assembly of the mechanical parts. A pre-assembly of the mechanical part of the respirators will be executed on the site of Groupe PSA in Poissy, France. The last phase of the assembly, the control, the quality deliverance will be achieved on the Antony site, by the teams of Air Liquide Medical Systems.
Mobilization: 240 additional operators will be deployed to support the fast-tracking of the respirator production program
The coordination of this complex project, involving different teams working together in the fight against the pandemic, is possible due to the tireless work of many. Air Liquide and its allies further commit to solidarity with front-line workers and professionals by delivering these 10,000 respirators at a reduced cost.
Red-D-Arc Welderentals™ an Airgas company rents and leases welders, welding positioners, welding-related equipment, and electric power generators – anywhere in the world. Our rental welders, positioners and specialty products have been engineered and built to provide Extreme-Duty™ performance and reliability in even the harshest environments, and are available through over 70 Red-D-Arc Service Centers, strategically located throughout the United States, Canada, the United Kingdom, France, and the Netherlands, as well as through strategic alliances in the Middle East, Spain, Italy, Croatia, and the Caribbean. From our rental fleet of over 60,000 welders, 3,700 weld positioners, and 3,700 electric-power generators, we can supply you with the equipment you need – where you need it – when you need it.