Share
The Millermatic 252 is an impressive machine that's capable of 300A output amperage. This allows you to weld at higher output for a prolonged period of time ⁠- perfect for those longer jobs. The 252 is suitable for a wide range of industrial work and is able to go from 22 gauge to 1/2 inch steel in a single pass.
If you're regularly welding large pieces of metal for sustained periods of time or you need a machine that's up to the task of working in a busy shop, the Millermatic 252 should be your number one choice.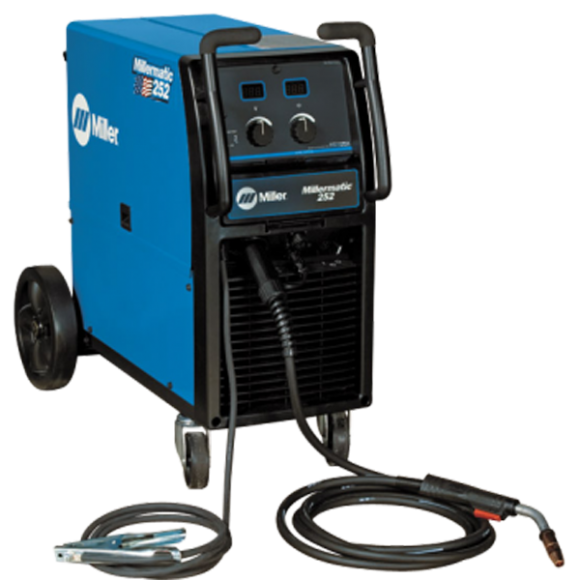 Best Features of the Millermatic 252
The 252 has the highest output of all welders in the Millermatic range, making it a fantastic choice for those who weld for a living. It's an incredibly versatile machine that can withstand even the busiest of environments and heaviest of workloads. Whether you're using this machine to weld stainless steel or carbon steel, the Millermatic 252 is more than capable of the task.
For welders who need to pump a ton of wire into their welds, a resilient and reliable setup is a must. Being able to weld effectively without running the risk of delays is vital in this day and age. Financial losses as a result of machine breakdowns or jams can have a negative effect on a business. Remember, it's important to select the right welding wire for the job.
Thankfully, the Millermatic 252 has a top of the range design that has been specially engineered to prevent incidents like this from occurring. It features an aluminum dual-gear drive system that allows the machine to feed wire without the need for any downtime. There are spaces on the machine for you to store drive rolls, so the disruption to your work is minimized.
The trademarked Auto Gun Detect technology allows users to simply pull the trigger on their MIG, spool, or push and pull gun and the Millermatic 252 detects the appropriate voltage and wire feed speed of the active gun. This saves a lot of time in the workplace and can reduce your job turnaround time dramatically, especially when you've taken the importance of welding surface preparation into consideration.
The cast aluminium drive system feature a number of controls that make the user experience as smooth as possible, including quick-change drive rolls, and an easy to set tension knob.
The EZ-Change™ cylinder rack allows users to change cylinders with minimal fuss by simply rolling them on and off. This is another time-saving feature that serves to make your welding experience as smooth as possible.
With an impressive gun range of 15ft, the Millermatic 252 enables users to work at longer distances than most of its competitor's machines. The length means that it's easy to work on larger pieces of metal without the need to be constantly readjusting the placement of your equipment.
The Drawbacks of the Millermatic 252
The Millermatic 252 is quite a big machine. Consequently, it's not really suitable to be moved between locations due to the sheer size of it. As such, it's best suited for a shop environment. Also, the larger MIG gun can make more intricate, thin work a challenge. Despite these minor drawbacks, the Millermatic 252 is an impressive machine that can hold its own among the best on the market.
Millermatic 252 Specifications
Unit Height: 30 in.
Unit Length: 40 in.
Unit Width: 19 in.
Rated Output: 300A maximum of 200 Amps at 28 VDC on a 60% duty cycle OR 250 Amps at 28 VDC on a 40% duty cycle
Input Voltage: 220/230/240 V
Weld Thickness: The 252 is able to weld anything from 22 gauge to 1/2 inch mild steel
Wire Feed Speed Range: 50 inches per minute to 700 inches per minute
Welding Amperage Range: 30 A – 300
Here at Red-D-Arc, we have a fantastic range of welding and welding-related products available to rent. With over 60,000 items available, we're sure to have something you need.
Features of the Millermatic 252| Red-d-Arc
Photos:
https://www.pngfly.com/png-10uzpc/
https://www.gettyimages.co.uk/detail/photo/welder-wearing-face-mask-and-protective-gloves-in-royalty-free-image/475143137?adppopup=true