Share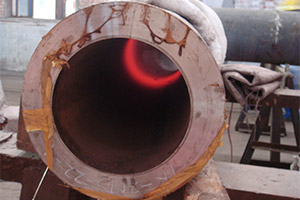 Pre-weld and post-weld heat treating is critical for many welding operations. Without proper thermal manipulation, welds and heat affected zones can have mechanical properties that are undesirable. Worse yet, inadequate heat treatment can result in cracks and devastating weld failures. While temperature and time are the primary concerns when heat treating a weld, the heating method should also be considered diligently when selecting a process. Induction heating is one of the most popular types of heat treating methods, and rightfully so. The benefits of induction heating are many, and Red-D-Arc has the equipment you need to successfully implement an induction heat treating operation for your projects.
What is Induction Heating?
Induction heating is a heat treating process that, when used properly, can alter the mechanical properties of a weld and its adjacent base metal in a way that meets the demands of the application in which the weld is being used. Induction heating relies on the science of electromagnetism to heat the part. Induction coils are placed around the material being heat treated, and alternating current is fed through them. This alternating current going through the induction coils creates a rapidly alternating magnetic field.
The eddy currents that occur as a result of this heat the material surrounded by the coils. Magnetic materials are even more easily heated by the alternating magnetic fields.